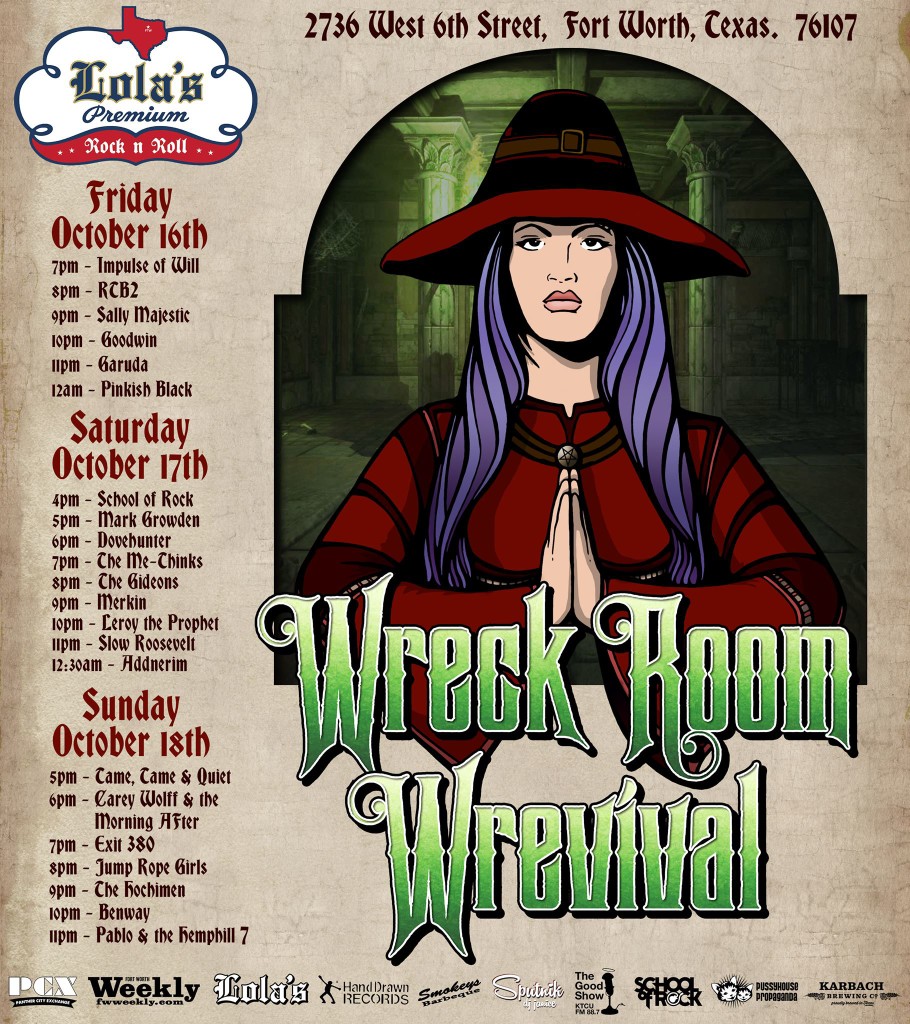 The boys were visited by some local greatness this week, Tony Diaz, Peter Thomas, and Tony Edwards. If you have ever done anything in the Fort Worth Music scene, there's a good chance that Tony Diaz was a part of it some how. And one of the biggest shows of the year, Lolaspalooza VI – Wreck Room Wrevival has his name along with Panther City Exchange written all over it. One of the highlights of Lolaspalooza VI is a band playing Saturday night by the name of Slow Roosevelt, which happens to be fronted by Peter Thomas. If you know anything about Fort Worth music, then you know that Slow Roosevelt was a huge influential band that had some legendary shows that are still talked about to this day. Matt and Dustin get to pick Peters brain about the band, some of these shows, and just what the hell is going on in the world of Slow Roosevelt these days. We can almost promise that Saturday night will be another Slow Roosevelt show that people will be talking about for years. And then there is Tony Edwards, the right hand man at the now defunct One Ton Records. One Ton was THE go to label in North Texas that had an endless roster of amazing bands. This weekend Lola's will be the place to be to see and hear some of the sounds that made the Fort Worth music, no, the North Texas music scene what it is today. Like Dustin said on the show, "If you're not there then you're stupid."
Towards the end of the show the boys have a good conversation with Peter about mental health and it's effects and tolls on the scene. 45 Fund is a Deep Ellum Association that promotes mental health awareness for Artists and Musicians. Founded in 2011, 45 Fund was inspired by the suicides of Frankie Campagna and Adam Carter, both from the Dallas based band Spector 45. We ask that if you listen to anything at all out of this episode, please listen to the last 30 minutes.
CALL OUR VOICE MAIL LINE AT 682-593-JJTM!
A big shout out to our friends Funkytown Podcast, Off Radar, Epic Podquest, and Robotuners Insignificant Podcast!
Show your support and buy a sexy Jerry Jonestown Massacre T-shirt Here!
Email us all your bits to Jerryjonestownmassacre@gmail.com
Also catch us Live every Tuesday at 8pm CDT on Mixlr at Http://mixlr.com/the-jerry-jonestown-massacre/
Podcast: Play in new window | Download | Embed
Subscribe: Apple Podcasts | Android | Google Play | Stitcher | RSS